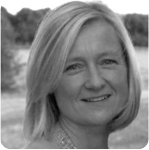 Clare Hopkins
MSc BSc (Hons) DipCOT
Independent Occupational Therapist and Case Manager
Profile
HCPC registered Occupational Therapist with over 35 years' employment within the statutory, educational and independent sectors, working with people with a wide range of physical disabilities and associated psychological conditions. Extensive casework, management, organisational and supervisory experience.
For a significant period of time I have concentrated on working with clients who have suffered severe and complex injuries including acquired brain injury, amputations and complex orthopaedic injuries. I have extended my skills in working specifically with children and young people with a range of conditions but particularly traumatic brain injury. I have completed an MSc in Rehabilitation (neurological pathway) and was awarded a distinction for my research and for the MSc overall.
In 2017 I was honoured to have received a  Merit Award from the Royal College of Occupational Therapists for excellence in my sphere of work.
Clinical skills/experience
INDEPENDENT SECTOR:
Over 22 years in independent practice working in a variety of contracts, recommending and delivering community based rehabilitation packages. A major part of this has included intervention and case management with adults and children who have suffered complex and catastrophic injuries, particularly traumatic brain injury. These cases have necessitated using a range of assessment and treatment skills and knowledge and working collaboratively with other statutory and independent practitioners from all disciplines. Referrals have been on a single or joint instruction basis. Work has also included being instrumental in the recruitment, management and training of a team of OTs, monitoring their performance and supporting their interventions plus involvement in training other staff in working within a rehabilitation programme and wide-ranging liaison in order to foster understanding and achieve the aims of the programme.
Other work has included contracts with local authorities and housing departments to provide specialist housing and community OT input, with voluntary bodies to provide the same, and with solicitors to provide medico-legal reports.
In addition, contracts have included individual supervision of other OT staff on a consultancy basis and advice to individual clients with disabilities who prefer to use an independent practitioner.
STATUTORY SECTOR:
5 years working as a community OT in Social Services, holding a generic caseload of adults and children with long-term and complex disabilities; carrying out assessments in line with relevant legislation and facilitating provision of suitable equipment and adaptations to maximise function. Liaising with staff from different organisations in the public, private and voluntary sector. Supervising students and managing a team of qualified and un-qualified community OT staff.
6 years in the NHS, working across a range of physical disciplines, carrying out assessments and planning treatment and discharge for patients. Also working as a Head OT and Acting District OT, managing a team of OT staff, monitoring the service, keeping budgetary control, implementing relevant policies and guidelines and dealing with all the day to day issues of running a busy therapy service in a teaching hospital.
6 months post grad experience within in-patient long stay mental health, Victoria, Australia.
EDUCATION:
2 years as a lecturer and fieldwork coordinator, teaching all levels of OT students and managing fieldwork placements. Running study days and short training programmes for fieldwork supervisors. Tutoring and pastoral care for individual students.
Managerial skills/experience
Comprehensive understanding and experience of working with complex cases involving a range of physical conditions, acute and chronic symptoms and permanent disability, with or without underlying psychological components.
Extensive and wide-ranging problem solving and organisational skills.
Excellent communication and team working ability.
Commitment to the consultation and involvement of individuals and their carers in planning and managing their own lives.
Commitment to continuing professional development and reflective practice.
Career summary:
From Jan 1994
Independent Occupational Therapist and Case Manager
Jan – Aug 1994
Temporary Community OT at Stevenage Social Services
July 1992 – Dec 1993
Joint OT Team Manager at Southwark Social Services
Aug 1990 - July 1992
Lecturer and Fieldwork Coordinator at South Bank University
June 1986 - July 1990
Head OT and Joint Acting District OT, Dulwich & King's College Hospitals, Camberwell Health Authority
Jan 1983 - June 1986
Community OT and Senior Community OT at Southwark Social Services
June 1980 - July 1982
Basic grade and Senior 2 OT, Brook Hospital, Greenwich Health Authority
Jan 1980 – June 1980
Temp basic grade OT Larundel Hospital, Melbourne, Vic.
Qualifications:
Diploma of the College of Occupational Therapists, Astley Ainslie, Edinburgh 1979
BSc Hons Social Anthropology, Goldsmiths College, University of London (2:1) 1992
MSc Rehabilitation (neurological pathway), Oxford Brookes University (Distinction) 2014
Continuing professional development, including:
Child Brain Injury (including Public funding issues, Family life, Long term outcomes, Assessing cognitive and emotional difficulties) ABIF (2018)
Brain Injury (including: Neuroradiology, Epilepsy following brain injury, The neuropsychiatry of brain injury) ABIF (2017)
Effective supervision workshop and training, Oxford Brookes University (2017)
Tech Con 17 (advances in the use of technology in rehabilitation), ABI Solutions (2017)
Fatigue management (COT 2017)
Brain Injury Group - specialist training RTA Investigations, setting up of Care Packages (ABIF 2016)
But there's nothing on the scan!  Understanding and managing mild TBI (OZC 2016)
Self management for people with persistent pain (IW study day 2016)
COTSS - Neurological practice Brain Injury Forum annual conference (2015)
Prolonged Disorders of Consciousness: The OT role (COTSS Neurological practice 2015)
How can neuroscience better inform neuro rehabilitation?  (CarePlus study day 2014)
Masterclass: Occupational Therapy following brain injury in childhood  (COT 2014)
MSc Rehabilitation (neurological pathway) (Oxford Brookes University 2011 – 2014).  My primary research was entitled 'Mothers' experiences of paediatric case management'
Who Owns Case Management (CMSUK study day 2013)
Brain injury technology conference (COT 2013)
Managing complex neurological injuries through rehabilitation and litigation (FFW 2013)
Rehabilitation of the Amputee (Queen Mary's Roehampton 2009)
Assessment and Management of Social Communication (Oliver Zangwill Centre 2009)
Mental Capacity Act (Cambs Social Services 2008)
Cognitive rehabilitation (Brain Tree training 2008)
Skills training for OTs working with chronic pain patients
Ergonomic office design
Moving and handling
Equal Opportunities Training
Supervisory skills
Centre for the Accessible Environment: reading and understanding plans and components of housing design
Field Work Supervisor's Training
Various in-service training and study days linked to special interest groups plus attendances at relevant conferences, for example CMSUK, BABICM, COTSS - NP, COTSS - CYF
Frequent and regular networking and peer support
Ongoing professional supervision
Registrations and memberships:
The Health and Care Professions Council (HCPC)
The British Association of Occupational Therapists (BAOT)
The Case Management Society UK (CMSUK)
College of Occupational Therapists Specialist Section – Neurological Practice
College of Occupational Therapists Specialist Section – Independent Practice
Membership numbers are available on request.